Influencer
Marketing
Below, you'll find a selection of artists, content creators, influencers and athletes based in French-speaking Switzerland.
RTS - On en parle june 22, 2021
Les marques suisses à l'assaut des influenceuses et influenceurs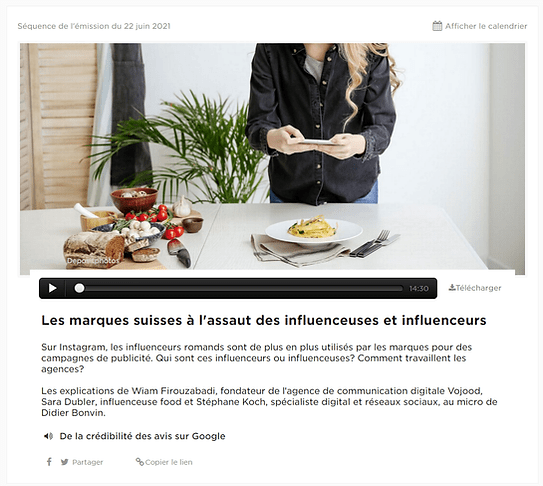 Contact us to set up an influencer campaign
The directory is updated regularly.
Have we missed someone? Fill in the form below:
Our influencer agency can help you design and manage your influencer campaign, whether you're located in Renens, Bussigny, Crissier, Ecublens, Pully, Echandens, Le Mont-sur-Lausanne, Prilly, Denges, Lutry or even abroad and you want to touch a quality audience in French-speaking Switzerland.
Thus, the influencer, a media person on platforms such as Instagram, Facebook or YouTube, can impact consumer behavior. With tens of thousands or even millions of subscribers, these new opinion leaders have the ability to convince their audience, with whom they establish a relationship of trust.
Our influencer agency can help you set up your strategic promotional campaign with influencers based in the French-speaking part of Switzerland.
Here's how we do it:
First, we make sure we understand your needs;
Based on your needs, we propose a list of influencers;
Once you've made your choice, we define a brief to send to the influencers;
Finally, we contact them, negotiate with them and make sure they do what's expected of them.
Do you want to communicate effectively on social networks and increase brand awareness? Influencer marketing is the ideal solution for boosting your sales in a short space of time via influencers. Don't hesitate to contact us! Our influencer marketing experts are at your service.